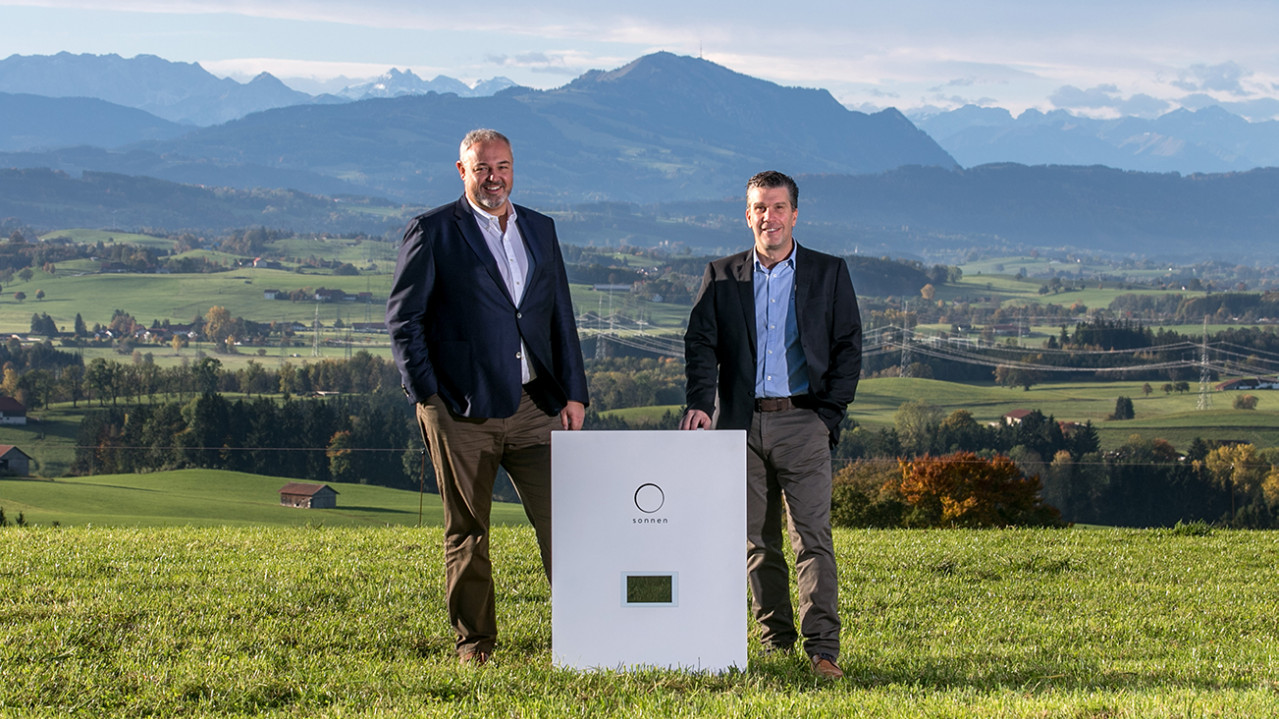 Blog | September 2020
Co-Founders Christoph Ostermann and Torsten Stiefenhofer Talk 10 Years of sonnen
10 years ago, sonnen was founded in the small Bavarian energy village Wildpoldsried, and the market for residential energy storage was still a long way off. We spoke with our two founders, Christoph Ostermann and Torsten Stiefenhofer about the past and the development of sonnen over the past decade.
VIDEO: 10 YEARS OF SONNEN
From a Bavarian garage start-up to the energy supplier of the future.
HOW DID YOU DISCOVER RENEWABLE ENERGIES AND WHAT INSPIRED YOU TO GET INVOLVED?
Torsten: I first installed a solar thermal system in my house. At that time, at the end of the 90s, photovoltaics were not yet such a big deal. I was simply fascinated by the idea of generating my own energy that was clean, sustainable, and in principle, had no running costs. This is still the case today, and has been for a long time with photovoltaics, and we share this thought with our customers.
Christoph: What has always fascinated me about photovoltaics is the idea of generating electricity from sunlight. It used to sound almost like alchemy to me, like a child who cannot imagine why airplanes can fly. I thought to myself, this must be the future, because this energy is infinite.

WHEN DID YOU TURN YOUR INTEREST IN RENEWABLES INTO A PROFESSION?
Christoph: I was previously in management consulting, where I mainly worked for luxury brands. With the advent of renewables, I became fascinated with helping to shape the future, which appealed to me more than consumer products. In 2003, I started spending time looking at all kinds of technologies and projects, from photovoltaics to wind power and biomass. My partner and I were both interested in the technologies and the economics behind them. I can still remember attending my first Intersolar in the city of Freiburg, which took place in a tent. It was a very small industry back then. I had dirty shoes afterwards, and the start-up atmosphere was incredibly inspiring. We soaked up all the information we could and learned everything from scratch so that we were prepared to invest in our first projects.
Torsten: I have always liked working with new technologies and thinking about ways to make them easily accessible to people. Before the EEG (German Renewable Energy Sources Act), I set up my own business to plan and install photovoltaic systems. The technology quickly gained momentum in Germany and reached the masses. Experiencing this was very motivating, but also instructive to be part of it.

IN 2008, YOU JOINTLY DECIDED TO CONVERT CONVENTIONAL CARS INTO ELECTRIC CARS. HOW DID THIS CHANGE OF HEART TURN TO ENERGY STORAGE?
Torsten: When we came up with the idea, there were basically no electric cars that were comfortable in Germany. But by the time we converted our first cars, car brands with leased batteries had already been launched in the market. It was clear to us that we could not play a long-term role in this segment. At the same time, the photovoltaic industry had been rapidly evolving, but the market was actually being oversupplied, due to public money, which we knew could not continue forever. Instead of just feeding electricity into the grid and having every kilowatt hour paid for, we could actually aim for self-consumption. If you want to do that properly and get through the night, you need energy storage. We already knew batteries and inverters, so we simply gave it a try and built the first prototypes with a handful of people,

THEN IN 2010 YOU FOUNDED SONNEN. WHAT WAS YOUR GOAL THEN?
Torsten: We wanted to make a difference. You can only do that if people become interested in your idea, and it leads to a broader market. It was also clear that energy storage could lead to sustainability, so in this respect, we naturally had a vision of clean and affordable energy for everyone.
Christoph: We simply loved the idea of energy storage. Did we know at the beginning what would become of the idea many years later? If I am honest, we only had a vague idea mixed with ambitions. In 2010, there was no storage market at all. Nobody knew if there would ever be one or what it would look like. We wanted our company to grow and make the world a little bit better with our products, but to do this, we would need to network thousands of our storage systems to form a Virtual Power Plant. In 2020, sonnen is now represented on four continents, and we have 700 employees. This is a dream become reality.

THERE ARE NOW OVER 50,000 SONNEN BATTERIES ALL OVER THE WORLD. HOW MANY DID YOU SELL IN THE FIRST YEAR?
Torsten: In the first year, it was between 70 and 80.

HOW DO YOU SELL 80 SONNEN BATTERIES IN A MARKET THAT DOESN'T REALLY EXIST?
Christoph: At the beginning, we had no marketing budget. When we sold a sonnen, we held home parties at a customer's house, similar to a Tupperware party. We asked the customer to invite all their friends, neighbors and even better, the mayor. It worked well because, back then, owning energy storage was simply something sensational, and often the attracted local press. We met our new customers through word of mouth and purely through recommendations. Today, we continue to remain true to this concept to a certain extent and our ambassador program is still part of our marketing strategy.
Torsten: In the beginning, we had many long discussions with prospects before we were able to sell a system and convert them into customers. That also proved to be very useful, in retrospect, because we listened to our customers and learned a great deal at the kitchen table. We still do that today when we develop new products.

WHAT HAVE YOU LEARNED?
Christoph: It was a lot of little things, which then flowed into the next product as features or services. For example, in the beginning, people always told us that they spent a lot of time in front of their storage system to look at the display to see how much energy they were currently generating and storing. We used this insight to develop our app, which is much more convenient and informative today and has become an integral part of the sonnen battery. Without these discussions, we would not have created an app at the time, simply because of cost.

YOU WERE ONLY A HANDFUL OF VISIONARIES A DECADE AGO, BUT TODAY THERE ARE 700 SONNEN EMPLOYEES AROUND THE WORLD. WAS THERE A POINT WHERE YOU REALIZED YOU WERE REALLY ONTO SOMETHING?
Christoph: No, there was not an inflection point like that. Building up a company is a series of many small moments and changes over many years, which you experience closely. It's a bit like your own child that you see progress a little every day, so the differences are more noticeable for grandparents who visit only so often. There are special points that I remember though. For example, when we introduced the sonnen eco in 2014, we were able to reduce the price by 50% and increased our production tenfold. The development of a company is simply an evolution — not a revolution that happens overnight as a result of a very specific event.
Torsten: I was always convinced that energy storage would go through the roof, simply because it felt so right. In the beginning, we knew were onto something when we sold 80 systems, then 100, and so on. There are also those other points, such as a big OEM deal, a new investor, or even just a good story in the media.

WHAT ADVANTAGE DOES A BAVARIAN START-UP HAVE OVER LARGE TECHNOLOGY COMPANIES? WHY COULD SONNEN BECOME A MARKET LEADER?
Christoph: An established corporation has a business model that should be protected from risks. A start-up must create a completely new business model and thinks in terms of opportunities. That is the fundamental difference. Both have their strengths and weaknesses.
Start-ups can move more quickly without tedious coordination among many committees, analyzing and debating the risks. They can try things out and quickly adjust their strategy again and again, perfecting things through trial and error. You learn a lot in a short time and can get a product ready for the market much faster. Courage, speed, and flexibility can help you catch up with, or even overtake, big players. You could end up with a third-generation product in the market while other companies are still testing their first release. This is particularly successful when a new market opens up, as was the case with us.
Innovations often originate from start-ups. Only in the next phase, when risks are more manageable, the big players join in and take over the start-ups. As a result, innovation will more likely lie in long-term product improvements and market scaling. On the other hand, the risk is much higher for start-ups than than established corporation. You can fail at any time and then it's over. If you look at the statistics of start-ups, it is much more likely to fail than to be successful.

COULD SONNEN HAVE FAILED? WHAT WAS PARTICULARLY DIFFICULT?
Christoph: Everyone who starts a business knows that something can always go wrong. You start from scratch. You have no reputation, no name recognition, and limited resources. All this has to be built up laboriously, and every mistake can have serious consequences in the early phase. A large company can cope with such setbacks much more easily, but innovation only comes with risk.
As an example, especially in the beginning of the energy storage market, there were repeated discussions in our industry about storage subsidies, which were to come soon. Then, of course, potential customers held back from investing in storage for the time being because everybody wanted to wait and see whether their investment would be subsidized. For us, it looked like no one would buy storage until then. An unclear political communication or political framework could cause major problems for an industry. Then you think to yourself, "Damn it, don't you know that this is threatening the existence of small businesses?"

YOU DIDN'T HAVE ANY INVESTORS FOR THE FIRST THREE YEARS. WHY NOT?
Christoph: We really didn't look for investors in the beginning. We had an idea and thought we would give it a try, and at that moment, we didn't even think that we would be so successful that we needed investors. By the time we actually needed investors to continue growing, we already had a market proven product, a viable concept, and good sales. That made it much easier to attract investors organically.

WHAT DISTINGUISHES SONNEN FROM OTHER COMPANIES IN THIS INDUSTRY?
Christoph: We always thought big. This is the reason why we already have our 10th product generation today and the reason why we, as a comparatively small company, dared to launch on four continents. It is also why we've gone beyond manufacturing storage units. With the sonnenCommunity, we've become a new type of energy supplier with a virtual power plant technology and completely new business models. This broad positioning is also a risk for a young company, but we have a very concrete idea of what the energy system of the future will look like, and that's where we want to go. We can inspire people with what we've achieved.

WHAT IS DIFFERENT WHEN YOU HAVE TO MANAGE A START-UP VERSUS A GLOBAL COMPANY, AS YOU HAVE BEEN DOING FOR A FEW YEARS NOW?
Christoph: You have to be able to give control to other people as you grow. That is difficult, and not everybody can do it, but otherwise you cannot grow. Every employee becomes more and more specialized as the company grows. Even as Managing Director, I can only contribute to a certain degree and no longer know every detail and every employee as I have from the beginning. You have to make the leash longer, which is emotionally difficult. The demand to steer a tanker is completely different than rowing a boat.
Torsten: It gets more complex. I stepped back as Managing Director in 2015 and have been responsible for innovations since then. Despite the growth of the size of the company, we have taken a few things away from our start-up period, such as staying fast and flexible.

WHY DID YOU STAY IN THE BAVARIAN COUNTRYSIDE? AND NOT GO TO A BIGGER CITY OR EVEN SILICON VALLEY?
Torsten: You only have to look out of the window, it's beautiful here. But seriously: If you have built something up over many years, you are also networked. Tearing everything down again and building it up somewhere else was never an option for us. We both feel very much at home and rooted here.
Christoph: If one were to start up sonnen as a test-tube baby in a laboratory, one would probably choose a big city as a location, for logistical and personnel reasons alone. But we are not. We grew up in Wildpoldsried and as a world-renowned energy village, Wildpoldsried is a very inspiring environment for a company like sonnen. The fact that we made it here is the best proof that you don't have to be in Silicon Valley to build a company like sonnen.

SONNEN WAS TAKEN OVER BY SHELL NEW ENERGIES IN 2019. HOW DID THIS HAPPEN?
Christoph: Demand is growing for energy storage, and it is only a matter of time until every household has a battery like they would have a refrigerator or a heater. We want to take this step further and continue to be one of the world's leading companies that developed home batteries and we will continue to invest in this.
We could have focused ourselves solely on developing energy storage for a specific market like Germany, but we would have grown slowly and maybe only become successful in a niche. That was never our approach and wouldn't have gone far enough if we want to solve the energy issues of the future. That meant we have to continue to invest in order to grow as fast as the market so that we don't get left behind — both in new technologies and offering and at our production sites in Bavaria, Australia, and the United States. As we reach a certain size, continued growth will be best achieved with a strong partner like Shell New Energies, which we see happening in the German storage market. As all relevant manufacturers, such as BYD, LG, or Tesla, now belong to a large company or are themselves one.
Shell has also been an investor in sonnen since 2018 and we have implemented joint projects during this time. The most important thing we've realized is the many similarities in how we see the future of energy supply. Many companies and technologies within Shell New Energies complement and will advance our products. Take electromobility, for example. This ecosystem has impressed us.
As an entrepreneur, you have a strong emotional connection to your company, just like you would watching your small child grow. You want it to be in the best hands for the future, and we had this feeling with Shell.
Torsten: Let me make this clear again: Our aim is to make our technology available to as many people as possible so that they can switch their households to clean energy. If you really want to make a difference, you have to make technology accessible to the masses. Climate change can only be solved on a global level, and it does not help much if I have 50,000 households in Germany that are involved. As a start-up, you simply can't achieve the same scale, but with a partner like Shell behind you, it's much more likely. It is the logical consequence of our vision for clean and affordable energy to be available to everyone.
For me, the acquisition was proof that our technology and approach had won, so there was no way around it. That was certainly not the case ten years ago, and we have achieved a great deal over a decade. Clean energy is now mainstream, and that is a good thing.

WHERE DO YOU GET YOUR DAILY MOTIVATION FROM? WHAT INSPIRES YOU TO FROM THEN UNTIL TODAY?
Christoph: For me, the motivation is to build something up, to be successful with it, and to make the world a little bit better. It is also keeping in contact with people and exciting technologies. You shouldn't start a company to get rich. Statistically speaking, most start-ups fail. You have to find fulfilment in entrepreneurship itself.
Torsten: For me, I am motivated to do the right thing  — then and now — with a wonderful team.

WHERE IS SONNEN 10 YEARS FROM NOW?
Christoph: Nobody can say exactly. The energy world is facing its biggest changes, and we are among the pioneers who are driving such changes forward. With such massive, structural changes, there are naturally many unknowns. What is certain is our future energy system will be clean, digital, and decentralized. In this world, we want to be the relevant energy provider. If you want to bring your household into a new energy age, there is no getting around sonnen. We are the one-stop shop for clean and affordable energy.
Torsten: With our portfolio of technologies and services, our customers can already generate, store, and share energy or drive electric cars with 100% clean energy. With our virtual power plant technology, we have introduced new opportunities to advance the energy revolution and benefit from it. We are just at the beginning of this journey with our customers, My dream is for coal-fired power plants to be taken off the grid entirely —  not because they have to be, but because we simply don't need them anymore.